Introduction
Smoking still kills.
 
Smoking continues to be the primary cause of premature mortality and preventable illness in North Yorkshire. Nearly 3,000 deaths in 2014-16 were estimated to be attributable to smoking (Local Tobacco Profiles, 2016).
 
The evidence base remains strong for continued investment in local Stop Smoking Services.
 
Recently published 'Models of delivery for stop smoking services: options and evidence by PHE, 2017 states that providing support for smokers to quit is highly cost effective and the evidence is clear that smokers who receive a combination of pharmacotherapy and skilled behavioural support are up to four times more likely to quit successfully.
 
It has been calculated that specialist stop smoking services together with stop smoking medicines end up saving more money than they cost because of the healthcare and economic costs.  For every £1 invested, £2.37 will be saved on treating smoking related diseases and lost productivity (NICE, ROI, 2016).
 
North Yorkshire adult smoking prevalence in 2017 was 15.6% (equating to 77,000 individuals) which is higher than the prevalence for England (14.9%). People in routine and manual occupations are more likely to smoke than the general population. Compared with England, smoking rates in North Yorkshire are broadly similar for this population group (North Yorkshire 24.5%; England 26.5%).
 
Smoking in pregnancy continues to be a major concern, especially in Scarborough. In North Yorkshire, one-in-eight births (12.9%) are to a smoking mother, 17.3% in Scarborough, compared with 10.5% in England. As well as Scarborough, rates are significantly higher in Harrogate 13.5% and Ryedale 15.3%.
 
You can view local tobacco control profiles here.
North Yorkshire tobacco control steering group
The North Yorkshire tobacco control steering group was formed in 2014 and is made up of a range of partners from public health, district councils, clinical commissioning groups, specialist services and trading standards. The group meets on a quarterly basis.
 
The steering group was established to undertake action across all areas of tobacco control.
 
A  North Yorkshire tobacco control strategy 2015-25 was developed, consulted upon and signed off by the health and wellbeing board on 30 September 2015. The strategy has five key priorities:
Prevention for children and young people;
Normalise a smoke free lifestyle;
Reduce illegal tobacco in the community;
Support smokers to quit and reduce smoking in pregnancy; and
Carry out marketing and communication programmes.
 
Key areas of work include introducing smokefree play areas across the county, working with trading standards to reduce illicit tobacco in our communities and to prevent underage sales, running campaigns on social media, developing best practice for smokefree schools policies, and promoting the opportunities presented by the introduction of plain packaging for tobacco products.
 
Outcomes from the strategy will be monitored through the performance outcome framework. This includes performance outcomes measures to track how effectively the strategy is being implemented.
 
The North Yorkshire tobacco control steering group is a proud champion of the 'Breathe 2025' campaign. The 'Breathe 2025' vision is to see the next generation of children born and raised in a place free from tobacco, where smoking is unusual. You can find out more about the campaign and make a pledge here
North Yorkshire Tobacco Control Reports: One and Two Years On
 The following reports summarise work undertaken in the two years since the North Yorkshire Tobacco Control strategy was launched.
 
North Yorkshire tobacco control report 2016: one year on

North Yorkshire tobacco control report 2017: two years on

Key achievements include: undertaking an illicit tobacco survey, re-commissioning the stop smoking service, initiation of the Baby Clear programme, the roll out of smoke free playgrounds and a number of successful communications campaigns including Breathe 2025 and 16 Cancers campaign, on a regional level. The reports also details priorities for the coming year and an update on progress made towards the vision of a smokefree generation by 2025.
Stop smoking service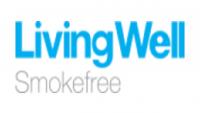 The County Council funds Living Well Smokefree and it has a team of advisors who have plenty of experience in helping people to stop smoking for good. They will  see anyone from the age of 12, have community based locations across North Yorkshire and can arrange home visits for people who have mobility issues.
Women who are pregnant and would like to quit can access the service themself or ask their midwife for a referral. They will be offered a choice of a home visit or an appointment in a clinic they prefer.
Living Well Smokefree offers personalised, one to one support over 6-12 weeks. For as little as 30p a day* the service user can get:
access to a dedicated Stop Smoking Consultant
a supply of either Nicotine Replacement Therapy (NRT) or Champix
local weekly 1-2-1 sessions
We know that people who use this combination of support are four times more likely to quit - and stay quit.
 
Contact the Living Well Smokefree team for advice about giving up smoking for good.
 
Phone: 01609 797272
Email: stop.smoking@northyorks.gov.uk
* Based on one quit product per person who pays prescription charges. The products are free to people who do not pay prescription charges.