The Public Health Team commissions North Yorkshire Horizons to deliver a specialist, adult, recovery focused drug and alcohol service across North Yorkshire.
 
North Yorkshire Horizons supports people to recover from drug and alcohol misuse and dependence, and reduce harm. It's a free service which offers access to experienced and professional teams who work with people and other services and agencies to reduce harm, and develop and progress individual and tailored recovery plans.
North Yorkshire Horizons offers a range of evidence based advice and support within your area including:
Comprehensive assessment of you and your needs;
Harm reduction and needle exchange;
Structured counselling;
Day programmes;
Opiate substitute therapy;
Community based stabilisation and detoxification;
Health and wellbeing services including blood borne virus screening, vaccinations and access to treatment;
Access to inpatient and residential placements where clinical need determines this as appropriate
 
Visit the North Yorkshire Horizons website for details of where the local service hubs and outreach services are located across North Yorkshire.
The North Yorkshire Horizons single point of contact telephone number is 01723 330730. Email: info@NYHorizons.org.uk. People who may benefit from support from the service can call the Free phone number 08000 14 14 80.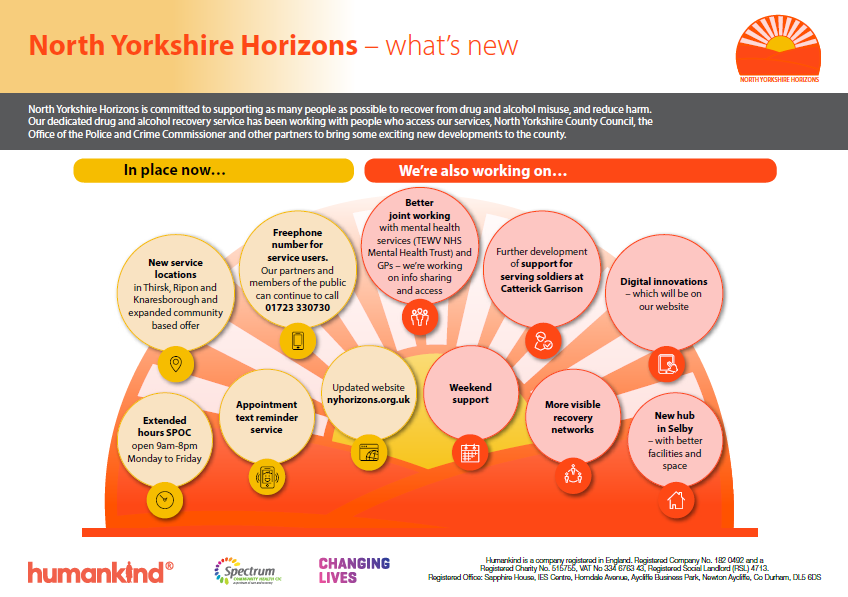 North Yorkshire Horizons works with Pharmacies and GP practices to bring the service to communities across North Yorkshire:
Practices offering drug misuse treatment and recovery shared care service in conjunction with North Yorkshire Horizons:
Ampleforth and Hovingham Surgery, Back Lane, Ampleforth, York, YO62 4EF
Beech Tree Surgery, 68 Doncaster Road, Selby, YO8 9AJ
Bentham Medical Practice, Grasmere Drive, High Bentham, Lancaster, LA2 7JP
Brook Square Surgery, 41-44 Trafalgar Street West, Scarborough, North Yorkshire, YO12 7AS
Castle Health Centre, 2-4 York Place, Scarborough, YO11 2NP
Central Healthcare, 174 Prospect Road, Scarborough, YO11 7LB
Danby Surgery, Briar Hill, Danby, Whitby, North Yorkshire, YO21 2PA
Dr Akester and Partners, The Holroyd Surgery, Main Street, Kirkby Malzeard, Ripon, HG4 4DZ
Dr Ingram and Partners, 7 & 8 Park Street, Ripon, HG4 2AX
Eastfield Medical Centre, 14 High Street, Eastfield, Scarborough, YO11 3LJ
Egton Surgery, Egton, Whitby, YO21 1TX
Harewood Medical Practice, 42 Richmond Road, Catterick Garrison, DL9 3JD
Kirkbymoorside Surgery, Tinley Garth, Kirkbymoorside, North Yorkshire, YO62 6AR
Leeds Road Practice, 49-51 Leeds Road, Harrogate, North Yorkshire, HG2 8AY
North House Surgery, 28 North Street, Ripon, North Yorkshire, HG4 1HL
Pickering Medical Practice, Southgate, Pickering, North Yorkshire, YO18 8BL
Posterngate Surgery, Portholme Road, Selby, North Yorkshire, YO8 4QH
Sleights and Sandsend Medical Practice, Churchfield Surgery, Iburndale Lane, Sleights, Whitby, North Yorkshire, YO22 5DP
South Milford Surgery, 14 High Street, South Milford, Leeds, LS25 5AA
Spa Surgery, Mowbray Square Medical Centre, Harrogate, HG1 5AR
Staithes Surgery, Seaton Crescent, Staithes, Saltburn By The Sea, TS13 5AY
Tadcaster Medical Centre, Crab Garth, Tadcaster, LS24 8HD
Whitby Group Practice, Spring Vale Medical Centre, Whitby, North Yorkshire, YO21 1TS
Pharmacies offering needle exchange:
Arc Pharmacy (Alex Crewe Ltd), Portholme Road, Selby, YO8 4QH
Asda Pharmacy, Bower Road, Harrogate, HG1 5DE
Aston Pharmacy (Ramshill), 15 Ramshill Road, Scarborough YO11 2LN
Aston Pharmacy (Falsgrave) 91 Falsgrave Road, Scarborough YO12 5EG
Boots - 28 Market Place, Thirsk
Boots - 64-66 Baxtergate, Whitby
Boots - 15-16 Market Place, Richmond
Day Lewis - Mowbray House, Northallerton, North Yorkshire DL7 8FW
Day Lewis - 4 Westgate, Ripon, North Yorkshire HG4 2AT
Delivery Chemist (East Ayton), 35 Main Street, East Ayton, Scarborough, North Yorkshire YO13 9HL
Delivery Chemist (Ramshill), 13 Ramshill Road, Scarborough, North Yorkshire YO11 2LN
Lincoln Co-operative Chemists, 7 High Street, Eastfield, Scarborough, North Yorkshire YO11 3LL
Lloyds Pharmacy, 154-156 Kings Road, Harrogate, North Yorkshire HG1 5HY
Lloyds Pharmacy, 34 High Street, Knaresborough, North Yorkshire HG5 0EQ
Lloyds Pharmacy, North Marine Road, Scarborough, North Yorkshire YO12 7PD
Lloyds Pharmacy, 93 Caroline Square, Skipton, North Yorkshire BD23 1DA
Lloyds Pharmacy, 54 High Street, Harrogate, North Yorkshire HG2 7JE
Lloyds Pharmacy, 24 Market Place, Malton, North Yorkshire YO17 7LX
Tesco Pharmacy (Catterick Garrison) Richmondshire Walk, Gough Road, Catterick Garrison DL9 3EN
Well Pharmacy, Stafford House, Main Street, Bentham LA2 7HL
Calcaria Pharmacy (Yorcare), 7-9 High Street, Tadcaster, LS24 9AP
Pickering Pharmacy (Yorcare), 22 Market Place, Pickering, YO18 7AE
Evaluation of the North Yorkshire Horizons Adult Drug and Alcohol Treatment and Recovery Services

An evaluation of the services was carried out by the Public Health Institute, Liverpool John Moores University in 2016.
Re-procurement
North Yorkshire Horizons was re-procured in 2018/19. A new contract was awarded and commenced in October 2019.  Visit our Specialist adult drug and alcohol treatment service - North Yorkshire Horizons page to find out more about the re-procurement process.