Last updated: 6 January 2021
North Yorkshire County Council has developed a range of resources about managing the COVID-19 pandemic in our county. These can be found on the North Yorkshire County Council website

North Yorkshire County Council  have worked with partners to develop a communications pack to support people who may be at more risk of COVID infection. The pack has been created in a number of different formats, including Easy Read and community languages. 
In addition, many organisations across the UK have developed helpful and accessible information about COVID-19, using Easy Read, pictorial and other accessible formats. Information in a number of community languages is also available.
 
This page has been created to bring together some of the most useful and up to date information in one place. It will be updated regularly as part of North Yorkshire County Council's response to the pandemic, to support providers and funded services to have the best available information and you are recommended to check it on a regular basis.
 
Services are encouraged to use and share these resources with people you support to ensure that they have the most up to date information in a format that they understand and which meets their needs.
Images courtesy of Photosymbols
---
Lockdown January - February 2021
On 4 January the UK Government announced a new national lockdown for the whole of England. Details on what you can and can't do can be found here.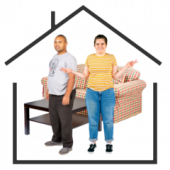 The UK Government information is not currently in easy read. We will provide links to easy read information when available.
This poster called Back in Lockdown provides a summary of the rules: https://www.keepsafe.org.uk/posters/back-in-lockdown
 
January lockdown: what it means for you - Inclusion North Easy Read
 
UK Government information
General Information about Covid-19

NHS and other health information
Information about going into hospital
Tips on staying safe and healthy at home
---
Community languages 
Information about national restrictions during November and December 2020:
Arabic
Cantonese
Nepali
Pashto
Polish
Romanian 
Urdu
 
Information about social distancing and keeping yourself safe:

Health information
A range of key COVID-19 documents translated into many community languages are available at the Migrant Information Hub website.