Friday 3 December 2021 is International Day of People with Disabilities.
The theme this year is 'Fighting for Rights in a post-Covid era' and celebrates the challenges, barriers and opportunities for disabled people in the context of a global pandemic. Since March 2020 everyone has been affected by COVID-19 and the changes brought in to respond to it. But many of these changes have had a disproportionate impact on the lives of disabled people and worsened the existing inequalities faced by disabled people.
Disabled people from across North Yorkshire are sharing their messages for International Day of People with Disabilities, and speaking up about the impact of the pandemic and the rights they are fighting for in a post-Covid era.
The mental health impacts of Covid-19
Members of North Yorkshire Disability Forum have created some videos about the impact that the pandemic has had on their mental health. You can find out more about North Yorkshire Disability forum and local forums here.
Nick is the Chair of the North Yorkshire Disability Forum, and a member of the Care Home Visiting Task Group, which was set up last year to look at how care homes could provide Covid-secure visiting options and ways for care home residents to stay in touch with their loved ones. In his video, Nick discusses the impact that visiting restrictions had on him and how he has worked with North Yorkshire County Council to find a way forward.
Oliver is vice-chair of Harrogate District Disability Forum. In his video, Oliver speaks about being a keyworker and being someone classed as "vulnerable" and the effect that had on him.
Labels are for Jars—Not people! #PhotoVoice
S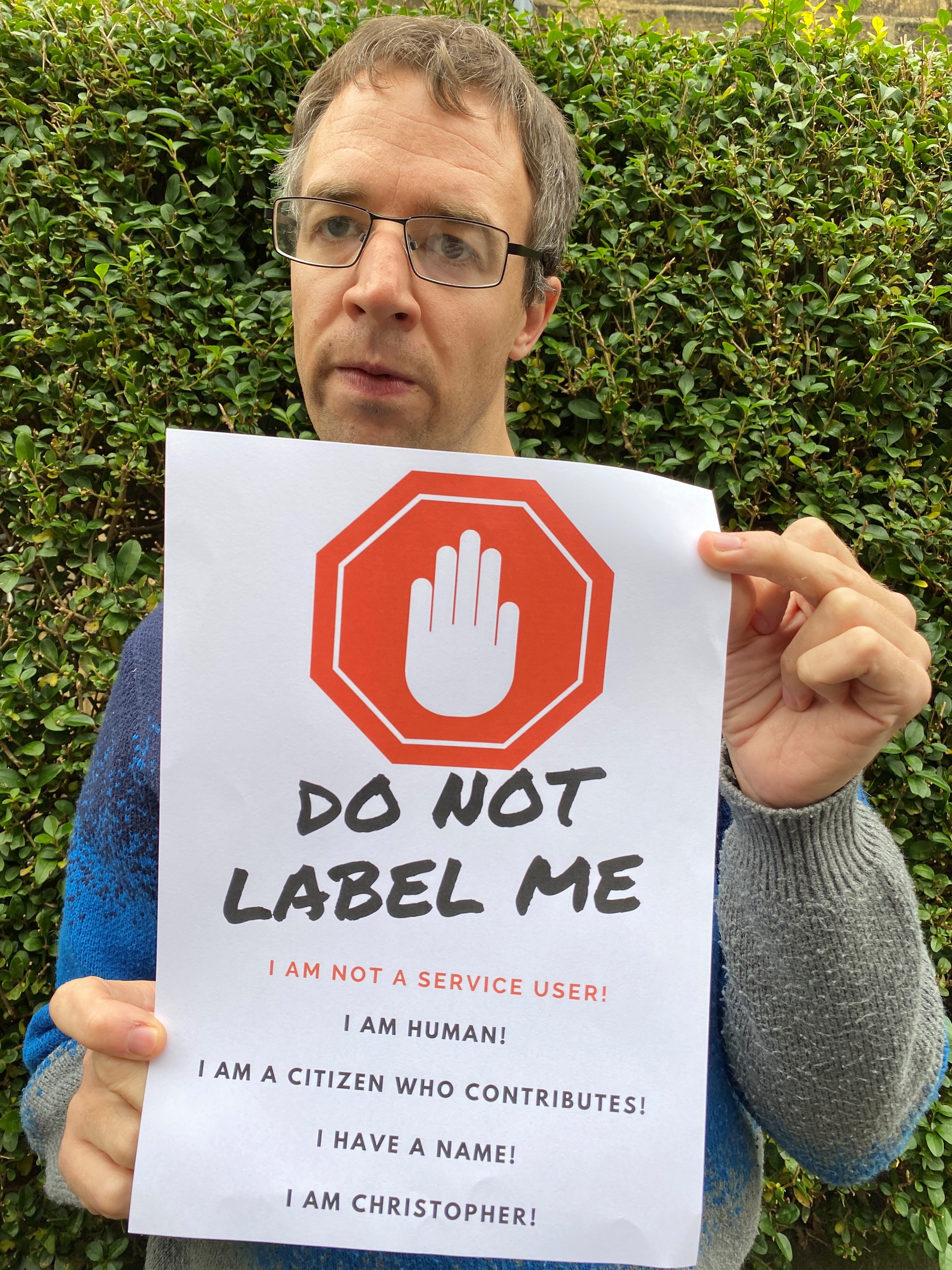 elf-advocates from North Yorkshire Learning Disability Partnership Board speak up about things that matter to them and other people with a learning disability and autistic people.
Christopher is the self-advocate Co-Chair of the Craven and Harrogate Learning Disability Local Area Group, and a member of an inclusive community group in Craven called Exclusively Inclusive.
Christopher is doing a Photo Voice project with Exclusively Inclusive and Our Creative Connection, where he takes  themed photographs in the community. The project is an opportunity to really look at the community and focus on what is important. At the end of the project they will be showcasing a selection of their photographs in an exhibition, planned for January 2022.
Christopher is using his photo voice work to speak out against labels.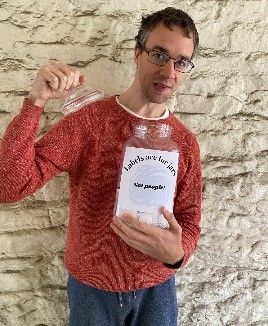 Christopher added:
"I think the media and everyone has the wrong idea about people with Learning Disabilities (and all disabilities)
We are either labelled as 'the vulnerable' and seen as helpless or we are seen as inspirational!
When all we want is for barriers to be removed so that we can get on with our lives and have our contributions recognised."
Katie is the independent Co-Chair of the Craven and Harrogate Learning Disability Local Area Group and the North Yorkshire Learning Disability Partnership Board. Katie runs Exclusively Inclusive and says 'We don't want to dwell on the past but it's important to look back on the "journey of inclusion" to see how far we've come. We looked back and put together this timeline'.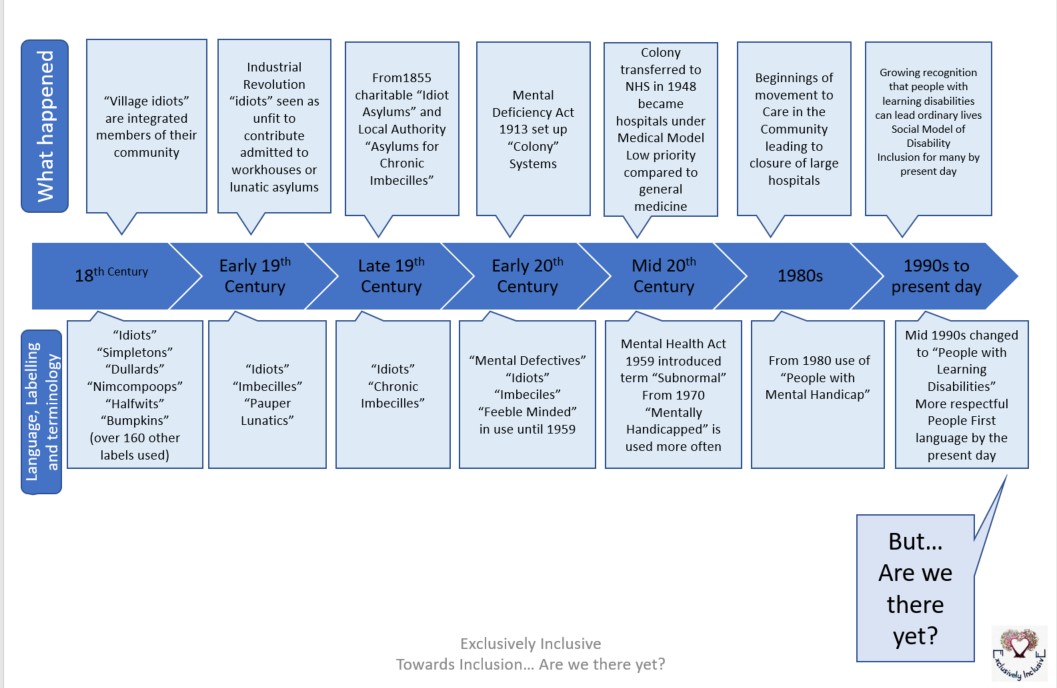 Katie also shared this image about the roots of inclusion
Living life to the full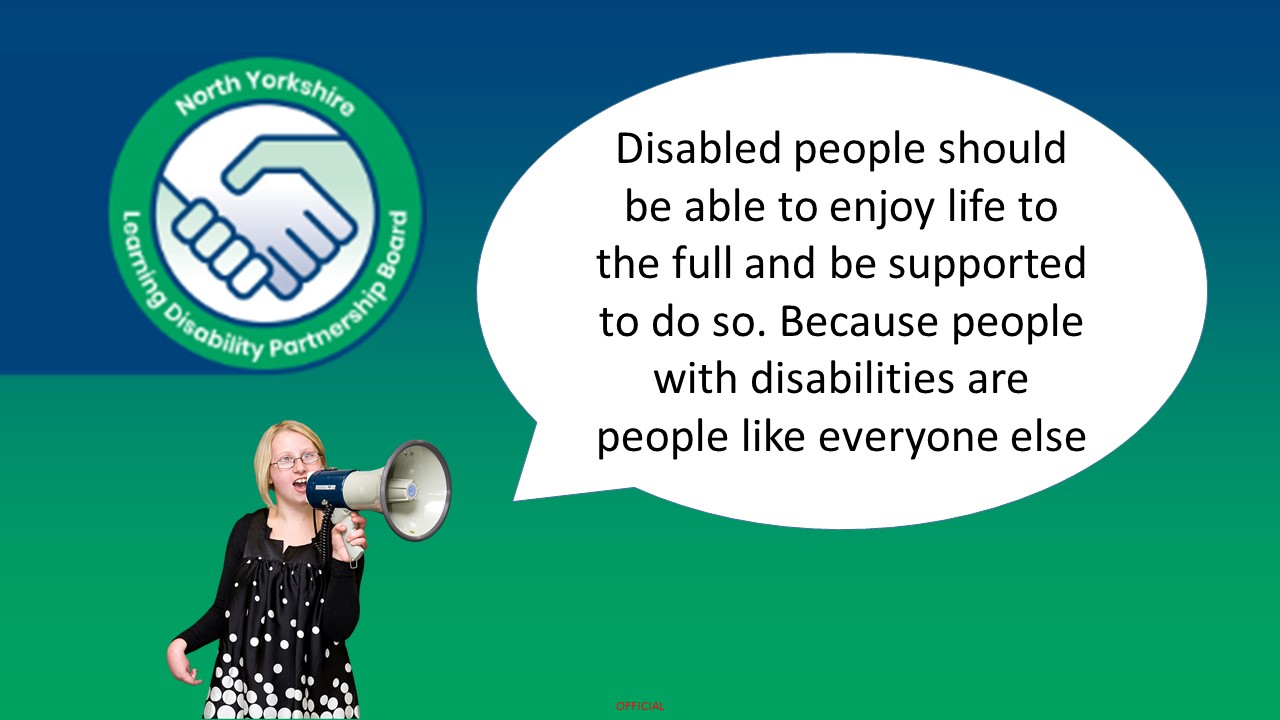 Self-advocates in Harrogate talked about what rights mean to them. They told us
"Disabled people should be able to enjoy life to the full and be supported to do so. Because people with disabilities are people like everyone else, we should be open and proud about our disability.
"We are entitled to live our lives to the full. We are entitled to choose our sexuality, relationships and have responsibility for our own lives and choices.
"It's a privilege being a self-advocate and helping others. We work as a team and help each other. We are able to speak for ourselves and make our own choices. We are involved with the local area group and the advocates forum and they all feed into the Partnership Board."
Nobody should be discriminated against because they have a mental health condition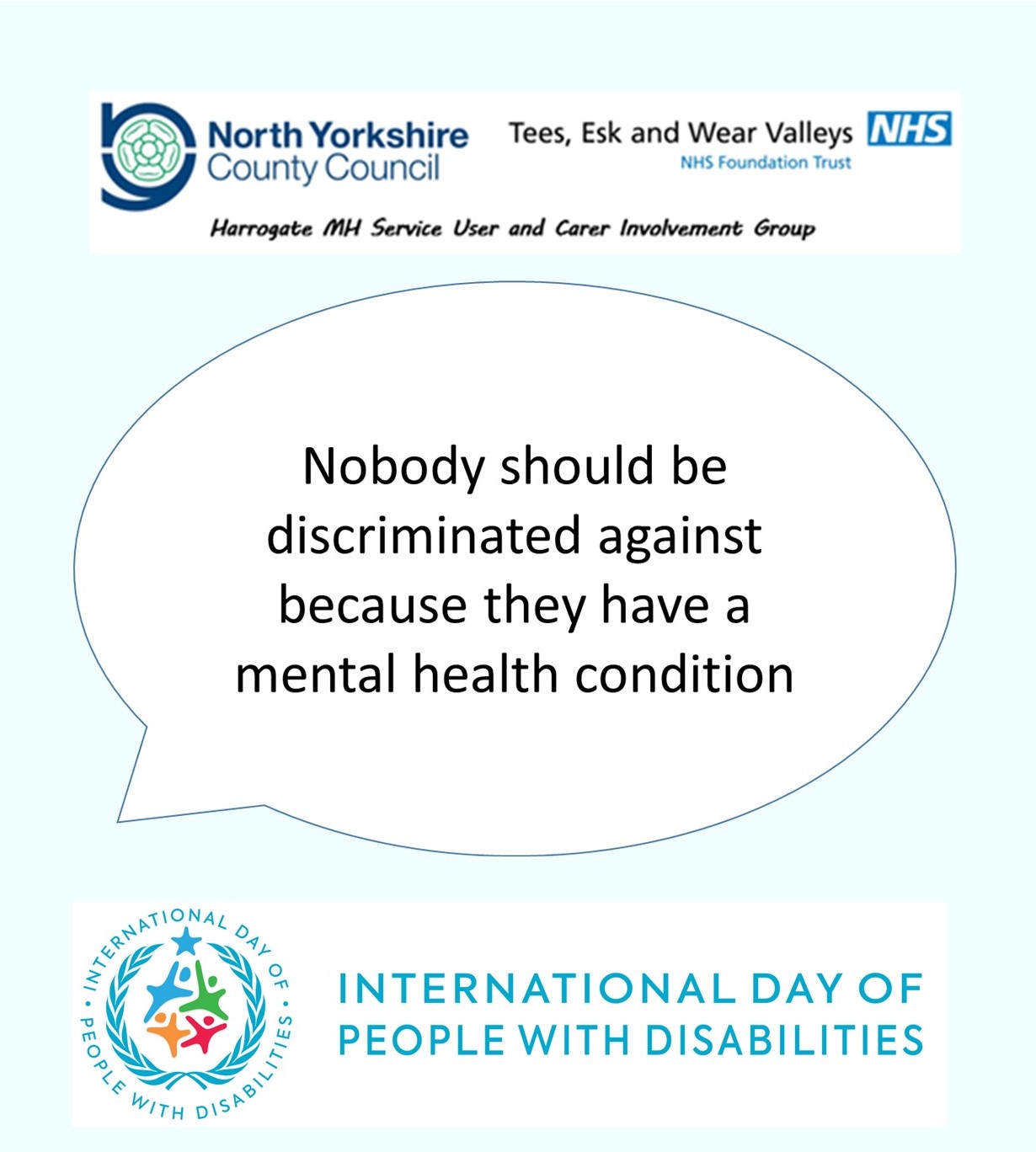 Ricky is a member of Harrogate Mental Health Service User and Carer Involvement Group. Ricky highlights that it's important to include people with mental health conditions on International Day of People with Disabilities.
Ricky says:
"People need to know that mental health conditions can be disabilities. There needs to be more knowledge and awareness of this. You can see a broken leg but you can't see a broken mind.
"There is still a lot of stigma about mental health and that stops people from talking about it. The way that it is sometimes reported in the media doesn't help—it can make people think people with a mental health condition are dangerous. 
"Social things can be especially difficult for disabled people. It can be scary to tell a stranger that you've got a mental health condition because you worry that they will judge you. You can feel quite isolated and alone.
"I've been speaking out against stigma for over 40 years. Over the last few years things have started to change with high profile people like the royal family speaking up about mental health. It's amazing to see things starting to change but it shouldn't take a celebrity to make people listen. Nobody should be discriminated against because they have a mental health condition."
Ashley is another member of the Harrogate Mental Health Service User and Carer Involvement Group. Ashley says
"The service user involvement group meets online once a month. People from all different backgrounds to do with mental health attend it. All the different groups are represented including at managerial level. Carers and service users are represented. Mental health social services are also involved.
"It is interesting to hear about what is going on locally and we usually have a speaker who attends the meeting. The meeting lasts about two hours. Often there are opportunities for service users to get involved in shaping the mental health services of the future and to contribute in a positive way. There is also a chance for members to report back to the group and to share what has been going on in their own particular field.
"I value being a member of this group and it is great to make positive suggestions to help improve the local mental health services and the experience of service users and to pass on what has helped me to get better."
If you are interested in joining the group, you can contact Wendy.Clark@northyorks.gov.uk
Staying in touch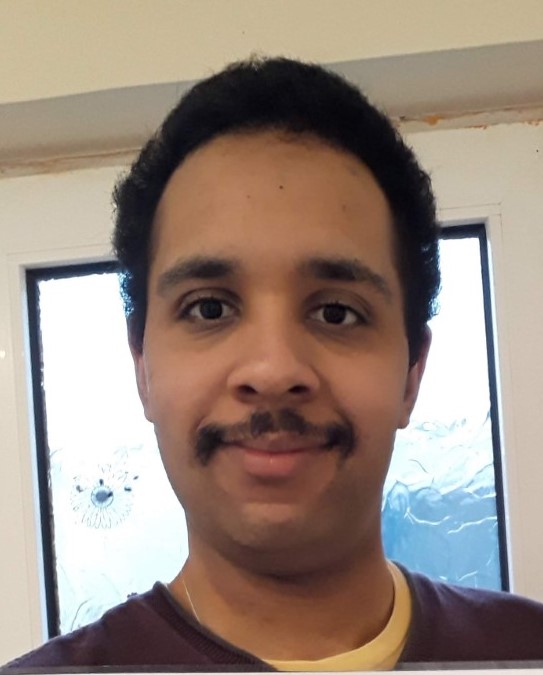 Dean is a self-advocate with North Yorkshire Learning Disability Partnership Board.  Dean explains why self-advocacy is more important than ever during Covid.
"Self-advocacy is important because the ongoing Covid-19 pandemic has caused lockdowns and everyone including disabled people to self-isolate at home which has included those who are most at risk of catching the virus and even sadly end up dying from it."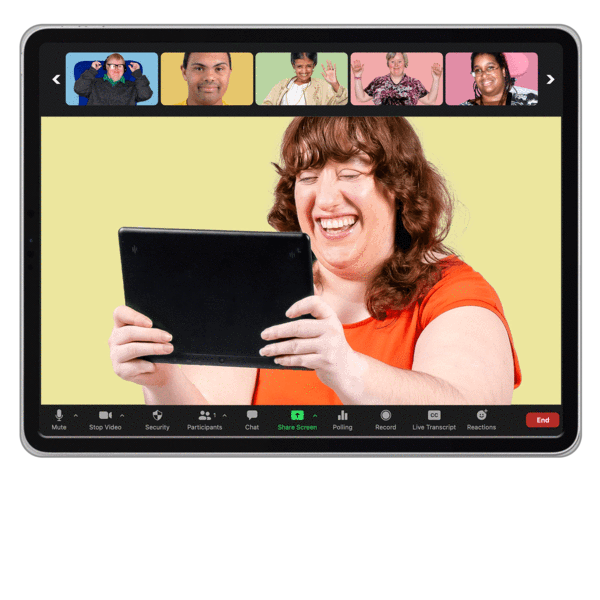 Dean added "One useful thing that has been a great help during lockdown is the video call networks which include Zoom as it has helped people get to see and say hello to old friends and make new ones too, not only in the UK but also in other countries of the world. Zoom in particular has also been used to play games such as Quizzes and Bingos on different topics. Importantly Zoom has also been used for jobs and meetings to happen on different occasions"
"I'm not trying to be difficult, I'm just trying to survive in a world not designed for me"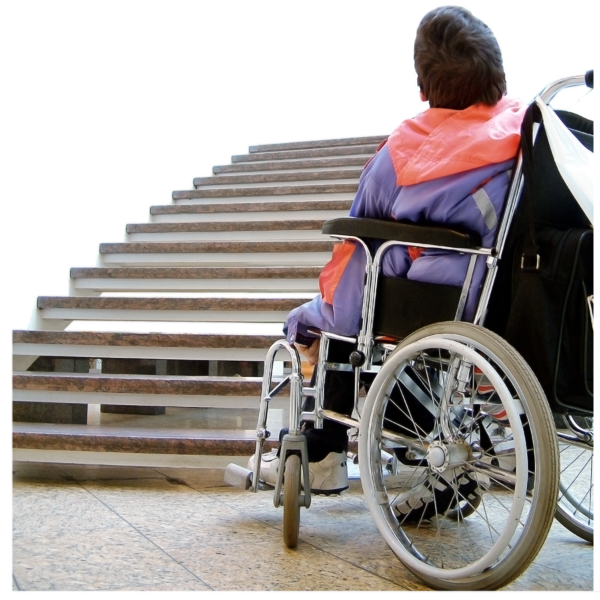 Nichola, a member of Harrogate District Disability Forum, shared this powerful reminder for people on International Day of People with Disabilities. Nichola also shared these reflections on lockdown
Lockdown for me was a time to:-
Feel part of a collective society.
Reflect.
Slow down.
Be myself.
Help others.
Start a new hobby.
Not be judged.
Show others that for some disabled people, lockdown is life.
Bite my tongue.
Laugh.
Cry.
Breathe cleaner air.
Hear the birds singing
Meet my new neighbours.
Be thankful for friends and family.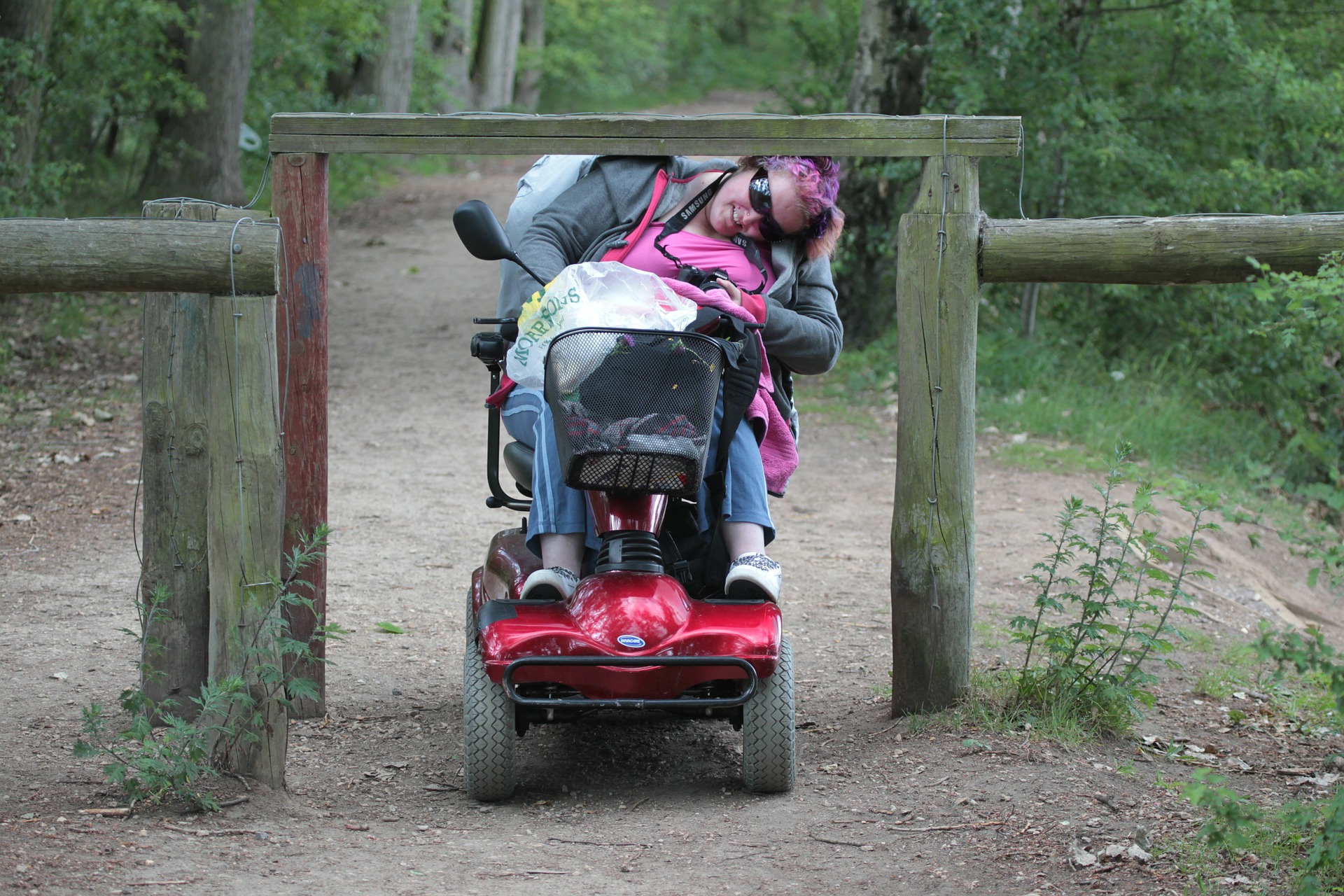 Standing or sitting side-by-side, albeit 2 metres apart
Finally we share some reflections from Roy, also a member of Harrogate District Disability Forum, on what fighting for rights in a post-Covid era means to him 
….. My last words, as I pull the last remaining single hair from my head.

 
Speaking as the husband of a person whose whole life hinges around her mobility, and the necessity to use a powered wheelchair to make her way in this world to the very best of her ability 24/7. For over a decade now, I have witnessed her struggle, a struggle most able-bodied people seem to have no regard for. This is plainly evident because the struggle really, truthfully it never seems to get any better. Promises often made, talk of event legacies are liberally issued, begging a revolution that has never yet arrived. These promises simply fade to nothing. As the song says," the needle returns to the start of the song, and we all singalong like before." Relentlessly a few continue  to fight in the hope of making ground. Sadly, these are, "Pigeon steps!" In what is a vast public Open Square, nothing without commitment and collective action. Developments here are so frustrating and numbingly slow.

 

Yet the world has proved it can make colossal ground, but only when we are all in the same boat together, I'm talking about our global pandemic, so much was, and still needs to be done. But it's happening, why?....... because it's not just disabled people. We're all at risk. The, 'Us, and them' attitude exists on so many levels, and they must stop! Surely after everything that has globally happened, the world can now see! If their blindness to issues like these persists. Then they need to realise, that they too have a serious disability. Disabled people, we can see what's happening, why can't our leaders and authorities?

 

 It seems all too easy to label things as "impossible." –

 

 I'm saying, make "impossible", "eligible". We are tired of living of the outside of a world that plainly needs us.

 

 It's true what they say, wars as devastating as they are, can sometimes bring about immense improvements in society never seen before. During the various "lockdowns" we all had to stand or sit side-by-side, albeit 2 metres apart. Suddenly, yes there were still steps, and stairs & stiles. However, the common tribulations of daily life we started to share together, and it showed in the positive nature of people.

 

 And this is it. When it comes down to a final breath, all we have is each other, remember that! In a political world, money will always count. We should all know now, money is nothing without one's own health, and we also learnt equally how dependent we are on the health of each other, and that continues, and will forever whether you choose to listen to what you've read here.