Back to the Future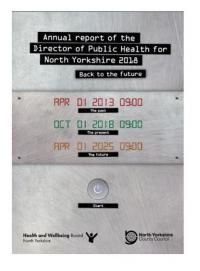 In his sixth annual report, the Director of Public Health for North Yorkshire looks back at progress made since 2013 when responsibility for public health transferred into the local authority. When preparing the report, feedback was gathered from a range of stakeholders about public health priorities for the future and these have informed the content of the report and recommendations.
The report is structured in three main sections:
• a look back from 2013
• what do the data tell us?
• what do partners and the public consider our future public health priorities?
 
Dr Lincoln Sargeant also looks forward to 2025 and makes recommendations around continuing to reduce health inequalities, improving public mental health and embedding a public health approach into everyone's practice.
---

Download the report
Director of Public Health Annual Report 2018 - Back to the Future
Director of Public Health Annual Report 2018 - summary
Director of Public Health Annual Report 2018 - engagement outcomes report
---
Director of Public Health annual reports

Director of Public Health annual report 2017
Director of Public Health annual report 2016
Director of Public Health annual report 2015
Director of Public Health annual report 2014
Director of Public Health annual report 2013
 
---