The North Yorkshire safeguarding adults board has been set up to protect adults who may be at risk from abuse by promoting co-operation and effective working practices between different agencies.
Safeguarding and the Care Act
The Care Act came into force in April 2015. This sets out a clear legal framework for how local authorities and other parts of the health and care system should protect adults at risk of abuse or neglect. The Act creates a legal framework so key organisations and individuals with responsibilities for adult safeguarding can agree on how they must work together and what roles they must play to keep adults at risk safe. This gives the safeguarding adults board a clear basis in law for the first time.
The North Yorkshire safeguarding adults board brings together a combination of NHS, police, local government, independent and voluntary sector and community partners seeking to ensure that adults who may be vulnerable are safe and well.
The Care Act expects safeguarding boards to ensure that safeguarding is personal, and that everyone in the community understands it and has a responsibility for supporting it. The Care Act is designed to make care and support clearer and fairer and to promote the wellbeing of both the people who are cared for and their carers.
It supports the aims of adult safeguarding which are to:
Stop abuse or neglect wherever possible;
Prevent harm and reduce the risk of abuse or neglect to adults with care and support needs;
Safeguard adults in a way that supports them in making choices and having control about how they want to live;
Promote an approach that concentrates on improving life for the adults concerned;
Raise public awareness so that communities as a whole, alongside professionals, play their part in preventing, identifying and responding to abuse and neglect;
Provide information and support in accessible ways to help people understand the different types of abuse, how to stay safe and what to do to raise a concern about the safety and wellbeing of an adult; and
Address what has caused the abuse or neglect.
You can find more information about the work the board does and safeguarding in general below. The policies and procedures have been developed in consultation with all partner agencies on the safeguarding adults board.
 
**************************************************************************************************************************
Mental Capacity Act Engagement Plan 2018
 
We need your help! In 2018 the North Yorkshire Safeguarding Adults Board (NYSAB) will be going out to talk to as many people as possible about their experience of the Mental Capacity Act in North Yorkshire. They want to know how things can be improved and what support and guidance both people and their families and carers, as well as Professionals, need to make sure that people in North Yorkshire have their voices heard.
 
NYSAB are also looking for an expert Steering Group to support in deciding what questions should be asked. You can find out more here. 

If you or someone you work with would like to get involved in the engagement please contact Erin Outram, Business Development Officer – Safeguarding: erin.outram@northyorks.gov.uk 01609 532078 by Friday 19 January 2018.
************************************************************************************************************************
Safeguarding week 2017
Safeguarding week 9 - 13 October 2017 was supported by the four safeguarding boards that look after children, young people and adults in North Yorkshire and York and their partner organisations, including the Office of the North Yorkshire Police and Crime Commissioner and the community safety partnerships.
The aim of Safeguarding Week was to raise awareness of the different forms abuse and to look at complex issues like protecting young people from abuse online.
Between 9 - 13 October 2017 there were a number of events which took place across North Yorkshire and York to offer advice and guidance on a range of issues such as staying safe online, cyber-bullying, grooming and safety in sport.
There was a wide variety of public-facing events organised which included:
Staff signing up to a "Safeguarding pledge" within Extra Care schemes
Roadshows for the public organised by staff from across several agencies with videos, leaflets and quizzes on different topics;
Keeping safe online workshop for key stage 2 children and their parents;
Discussions with youth clubs and colleges on how young people can keep themselves safe;
Scam awareness session with Ageing Well Group;
Session on e-safety for businesses;
Market stalls at local supermarket on scamming, cyber-crime and e-safety;
Session on safeguarding in sport;
Stall to raise awareness raising of domestic abuse within shopping centre;
Workshops on e-safety organised by the adult learning service;
Sessions/coffee mornings with community groups.
It is estimated that these events reached over 800 members of the public, ranging from schoolchildren and their parents to people over 85.
Safeguarding conference
A safeguarding conference took place on 9 October 2017 at the Pavilions of Harrogate. The theme was 'safeguarding is everybody's business', with the message from the conference being that everyone can play a part in reporting abuse. The conference was attended by over 300 professionals from a wide range of organisations who work with adults and children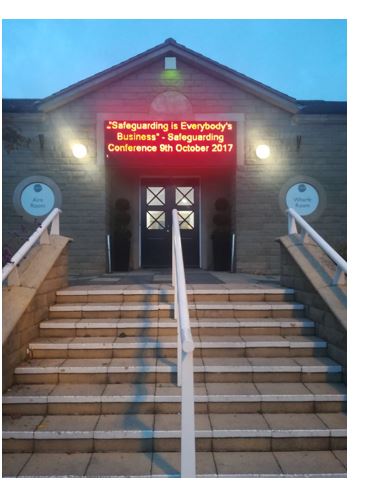 .
Speakers at the conference included:
Jamie Bartlett - Director of the Centre of the Analysis of Social Media whose principle areas of interest include social media monitoring, internet culture, the 'dark net' and hidden internet subcultures. https://www.demos.co.uk/people/jamie-bartlett/
Lorin LaFave - Lorin Lafave set up the Breck Foundation which is raising the awareness of playing safe whilst using the internet. Breck Bednar was a 14 year old boy, from Caterham, Surrey who loved technology and online gaming. He was groomed via the internet and murdered on 17 February 2014 by someone he met online.
This foundation has been set up in his memory to help other young people enjoy playing online but crucially to be aware of some simple rules to stay safe. To always remember that the friends that are made online are not like your real friends.
http://www.breckfoundation.org/
Subjects addressed in the conference also included modern slavery, suicide prevention, hate crime, financial abuse and exploitation, safeguarding in sport and the Prevent programme, which works with individuals vulnerable to extremism.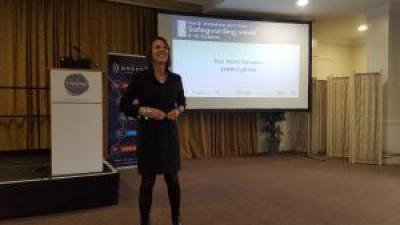 Lorin LaFave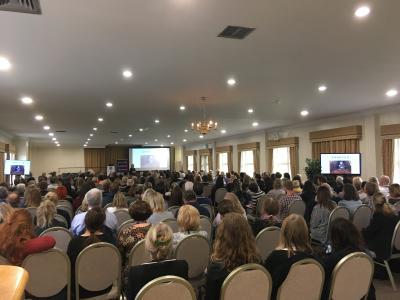 The main conference hall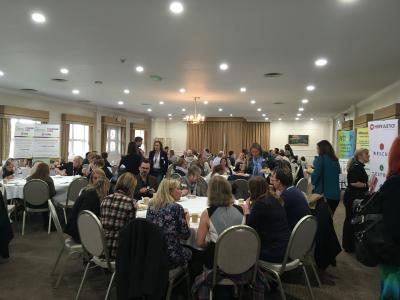 Networking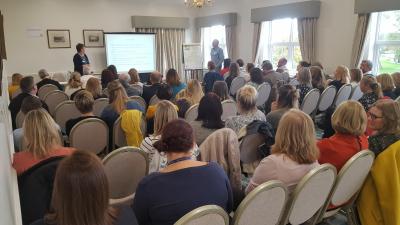 Suicide prevention workshop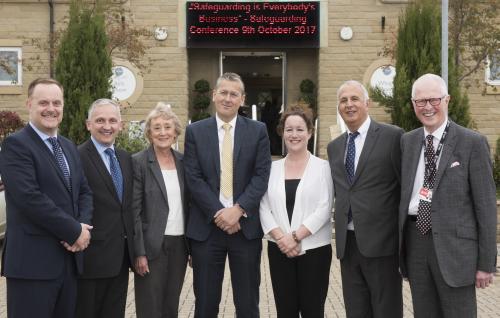 Safeguarding leads (who's who)
Left to right: Jon Stonehouse, Corporate Director, Children Education and Communities City of York; Cllr Michael Harrison, Executive Member for Health and Adult Services, North Yorkshire County Council; Cllr Carol Runciman, Executive Member, Adult Social Care and Health, City of York Council; Stuart Carlton, Corporate Director of Children and Young Peoples Services, North Yorkshire County Council; Louise Wallace, Assistant Director, Health and Integration, Health and Adult Services, North Yorkshire County Council; Professor Nick Frost, Independent Chair of North Yorkshire Safeguarding Children's Board; and Kevin McAleese CBE, Independent Chair of City of York Safeguarding Adults Board.
 
List of stall holders – Safeguarding conference
The following organisations provided stalls at the safeguarding conference. Follow the links to access more information about individual organisations.
Advocacy alliance - http://www.advocacyallianceyorkshire.org.uk
Basis Yorkshire - http://www.basisyorkshire.org.uk
Changing lives - http://www.changing-lives.org.uk
Cloverleaf Advocacy - http://www.cloverleaf-advocacy.co.uk
Community First Yorkshire - http://www.communityfirstyorkshire.org.uk
Compass - http://www.compass-uk.org
IDAS - http://www.idas.org.uk
Hope for Justice - hopeforjustice.org
Mountain Healthcare - http://www.mountainhealthcare.co.uk
NSPCC - http://www.nspcc.org.uk
Scarborough Survivors - http://www.scarboroughsurvivors.org.uk
Stop Hate UK - http://www.stophateuk.org
Trading Standards - www.tradingstandards.uk/consumers/support-advice
YHLCOSA - http://www.yhlcosa.org.uk
Healthwatch North Yorkshire Safeguarding Survey
Healthwatch North Yorkshire are conducting research around safeguarding in partnership with North Yorkshire County Council Safeguarding Adults Board.
Healthwatch North Yorkshire has produced three safeguarding awareness surveys - one for the general public, one for carers and another for managers. Feedback received from the surveys will contribute to a Healthwatch North Yorkshire report on safegurding in the county.
General Public - This survey is for the general public of North Yorkshire - Healthwatch North Yorkshire aims to gather feedback from the public to better understand the level of understanding people have surrounding safeguarding.

You can fill out the survey online here
You can download a copy of the Easy Read Version of the survey here. Please note we need your responses back by 30 November 2017.
Workforce - The purpose of the Workforce survey is to gauge the level of understanding and awareness of safeguarding procedures in the workplace.
You can fill out the survey online here.
Managers - The purpose of this managers' survey is to understand the level of knowledge managers in a work place have of safeguarding and the correct processes that go with it. This survey covers training procedures, safeguarding support and how to handle a safeguarding issue.

If you are a manager you can fill out the survey online here.
Review of the combined area multi-agency safeguarding adults policy and procedures
The safeguarding adults West and North Yorkshire and York multi-agency policy and procedures have undergone a substantial review this year by the seven safeguarding adults boards working together: Bradford, Calderdale, Kirklees, Leeds, North Yorkshire, Wakefield and York.
The aim is to achieve a simpler, person focused approach within our area and encourage the continuous development of best practice.
The consultation on the review of the policy and procedures is now closed. Further information will be provided on this page as soon as it is available.
---