For a printable copy of these minutes, please email HASConsultation@northyorks.gov.uk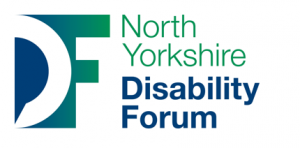 Joint Forums meeting with Richard Webb, NYCC Corporate Director Health & Adult Services
Thursday 6 May 2021 at 2-3.30pm
Online meeting via Zoom
Present: Phil Dodson (SDDF and NYDF Chair), Helen Firth (CDF), Nick Moxon (HDDF), Ruth Middleton (HDDF and HMHSU&CIG), Andrew Newton (HDDF and RDF), Maggie Donnelly (RDF), Jeremy Dunford (RDF), Bridget Hardy (YCRDF), Ian Lawson (YCRDF), Ashley Timson (HMHSU&CIG), John Slaughter (NAOFF), Mark Hamblin (NYDLPB), Christopher Porter (NYLDPB), Karen Murray (KeyRing), Victoria Silver (KeyRing), Richard Webb (NYCC), Ruth Hine (NYCC), Shanna Carrell (NYCC),Claire Canavan (NYCC)
Apologies: Katie Peacock (NYLDPB)
Key to Abbreviations
CDF—Craven Disability Forum
HDDF—Harrogate District Disability Forum
HMHSU&CIG—Harrogate Mental Health Service User and Carer Involvement Group
NAOFF— Northallerton Over Fifties Forum
NYDF—North Yorkshire Disability Forum (NYDF)
NYDLPB—North Yorkshire Learning Disability Partnership Board
RDF—Ripon Disability Forum
SDDF—Selby District Disability Forum
YCRDF—Yorkshire Coast and Ryedale Disability Forum
 
Phil welcomed people to the meeting and everyone introduced themselves.
 
Richard began by giving a short update on the current COVID-19 figures, before answering the questions which forum members had put forward.
 

Easing of lockdown restrictions

Christopher, NYLDPB

We all want to meet up face to face again but some of us are feeling nervous.

What is being done in North Yorkshire to keep people safe when all the big events, meetings and activities start up again?

Response and Discussion

There is a Safety Advisory Group and all big events go through this. Public Health check organisers have good protections in place.
NYCC has a campaign called 'Unlock Summer' which is designed to help ensure that Covid safety is maintained as lockdown eases.
NYCC have locality meetings with partners to ensure everyone is working together to keep people safe.
NYCC do spot checks to ensure that rules are being followed.
Richard suggested that NYCC Communications team may be able to work with forum members to share messages that they would like to give to businesses. There is also a weekly press conference which is a good way to get messages out to the media.

Action

Share 'Unlock Summer' resources.

Let's work together to unlock summer | North Yorkshire County Council

Ruth, Harrogate District Disability Forum and HMHSU&CIG

As someone who had been shielding for over a year I find that I am extremely nervous now in crowded environments. Can the county council do anything to encourage businesses to make it safer and easier, perhaps by offering quieter shopping times etc.

Ruth added that as a wheelchair user she often cannot use a shop's one-way system and that this means that she ends up much closer to other customers. She is unsure if quiet shopping hours will continue or for how long NHS volunteers will continue to provide assistance.

Response and Discussion

NYCC work with workplaces and make recommendations, as well as doing spot checks. They are also working with  the Communications team to highlight good practice. Some shops are better than others but it can also be difficult for staff enforcing the rules.
Some shops adopted quieter shopping times before Covid, e.g. for autistic people.

Actions

Richard will look at how they can work with the Communications team and Trading Standards to promote quieter shopping times.
Ruth H will feed Ruth M's comments back through locality meetings.

Ruth, Harrogate District Disability Forum and HMHSU&CIG

Trying to get around North Yorkshire towns where cafes, pubs etc have spread onto pavements and into outdoor spaces is a near impossibility for those of us in wheelchairs. Trying to make use of blocked lowered kerbs etc makes social distancing near impossible. What can NYCC do to encourage a fairer and more accessible return to 'normal'?

Response and Discussion

The Locality groups to which NYCC contribute include district councils who are responsible for pavement licensing, where this can be fed back
Bridget noted that there have been similar issues in Scarborough area.

Action

Ruth H to feed back through locality groups

 

COVID-19 Vaccination

Brenda, Harrogate District Disability Forum

I feel the organising and dealing with the covid vaccination programme been well organised and I congratulate all involved in this process. On behalf of the Deaf Community we are faced with barriers regards face masks. Feel it would have been helpful if volunteers could have been taught basic BSL sign language as not all Deaf people can speak or read and write.

Response and Discussion

Ruth H will feed this back through the North Yorkshire and York Vaccine Assurance Group.
NHS BSL 119 service is available to support people booking vaccinations and communicating with staff and volunteers at vaccination centres: https://interpreternow.co.uk/nhs119.

Action

Ruth H will feed this back through the North Yorkshire and York Vaccine Assurance Group.

Ruth, Harrogate District Disability Forum and HMHSU&CIG

 

I wasn't contacted about my second vaccine. 12 weeks after my first vaccination I attempted to contact someone about this but it proved very difficult. The GP surgery answerphone states they won't discuss vaccinations and although I spoke to several people at the show ground no one ever came back to me. When my text invite did arrive it gave me a first possible date some days into the future. It was extremely anxiety provoking. Why is it impossible to contact someone if you haven't been contacted? No one appears to take responsibility. 

Response and Discussion

The CCG have apologised for Ruth's experience and said that if anyone hasn't heard by 11 weeks they should contact their GP, or alternatively contact the CCG.
Ruth suggested that people contact 119 as this is staffed between 7am and 11pm.
If people are still struggling they can contact NYCC who will try to signpost them.

 

Day services, an active role in our communities, Direct Payments and charges for care

Mark, NYLDPB

What are day services doing to make sure people with a learning difficulty and autism are safe? Should we wait till we have our second jabs to go back?

Response and Discussion

It is OK to use day services before you have had your second jab.
Going back to day services is a personal choice and it is important to feel comfortable.
NYCC are working with services and have developed robust processes to ensure that providers have good safety measures in place. If anyone is worried about safety at their day service, please contact NYCC.

Katie, NYLDPB

Reading the latest report from Social Care Future has made me wonder about whether it would be possible for two or more people to pool their direct payments, if they wish, to get more out of them. How can we think creatively about how people can use their direct payments so they can get the most out of them and have access to more opportunities?

Response and Discussion

NYCC are happy for people to pool their direct payments. There are examples where this has worked really well.
If anyone is interested in pooling their direct payments, they should talk to their assessment worker or the direct payments team.
Richard suggested that the forums could invite members of the Direct Payments team to a future Q&A session.

Actions

Claire to share link to Social Care Future: https://socialcarefuture.blog
Participation and Engagement team to liaise with forums and the Direct Payments Team about possible attendance at a future forum meeting.

Katie, NYLDPB

Friendships, relationships and being part of a community play a vital role in enabling people to lead fulfilling lives and keep safe. How can we encourage providers and support workers to see their role in facilitating, encouraging and enabling people to play an active role in their communities?

Response and Discussion

Richard talked about the work that NYCC do with providers such as running provider sessions. He suggested that this is something people could get involved in, or share their top tips. He noted that lived experience is very powerful, and that people with lived experience are involved in interviewing and recruitment.
Richard also talked about the importance of thinking about how job descriptions and how roles are advertised. It is important to recruit support workers who are enthusiastic about enabling people to get the most out of life.

Action

Participation and Engagement Team to explore opportunities to contribute to the provider forums.

 

Katie, NYLDPB

I have heard that some people who have not had access to services because of the pandemic are receiving a letter telling them they need to pay more towards the cost of their care. Is this happening for everyone and how are you ensuring this is being handled appropriately?

Response and Discussion

This may be due to the annual uplift letter. This might mean that some people's weekly contributions may have gone up a little due to the increased weekly amounts received from benefits and other private income.
Alternatively it could be a result of a normal review which the team carries out on a regular basis. This review can result in both increases and decreases.
It doesn't mean that people will be billed for services they have not been receiving, due to the pandemic or other reasons.  The recent letters have just confirmed the standard weekly contribution – i.e. what people will pay for services actually provided.
If anyone has any concerns about the letters, they have contact details on them—please do get in touch if you have any worries at all. 

Action

Claire to follow-up with Katie.

 

Care homes

Nick, Harrogate District Disability Forum

Other households are allowed to meet up in groups of six. Why is this different for care homes and care home residents? If we can get individually risk assessed then it shouldn't be a problem.

Response and Discussion

Richard thanked Nick for speaking up about this issue. The concerns and questions he has raised have contributed to NYCC changing their approach earlier last year, and have helped to change the national approach more recently.
NYCC have escalated these concerns through Public Health England and the Department for Health and Social Care.
Initial changes have been announced which are a step forward, although Richard recognised that there was frustration about speed.
Richard highlighted that they needed to strike a balance between people's different wishes.
Richard also highlighted the consultation on whether it should be mandatory for people who work in older adult care homes to be vaccinated against COVID-19.
Nick said that residents of care homes are tired, and it has a wider impact on family. He said he doesn't understand why they are not part of the roadmap.

Andrew, Harrogate District Disability Forum and Ripon Disability Forum

Quarantine for 14 days if residents leave a care home is not fair of the government to impose this guidance. What are you doing to respond to government with residents reactions? And consequently change the guidance.  

Response and Discussion

Richard said his first priority was around ensuring people living in care homes have access to fresh air and exercise as initially the guidance said that people needed to self-isolate for 14 days after a walk. Richard is also concerned about the requirement to self-isolate after medical appointments.
NYCC are still working through the latest guidance and will continue raising concerns with the government and urging for change where possible.
Richard suggested the Care Home Visiting Group could work on a joint letter to the government, representing members of this group and include suggestions for what would help keep people safe.
Andrew noted that it is important to remember that there is a person at the end of the decisions being made and that anomalies in the guidance can have life-changing effects.

Action

Participation and Engagement Team to pass on suggestion re joint letter to the Care Home Visiting Group

 

Access

Ji, Craven Disability Forum

Why are we all trying to reinvent the wheel in each locality. I have only been involved for a short time but often wondered why there was no officer assigned to disability/ additional needs issues in each council district. 

From a mental, physical and social health point of view you would think it would be a loss leader in terms of proactively helping people before they need intervention.

Emma, Harrogate District Disability Forum

It is not nice not being able to go out because of accessibility issues in the area we live in and it's frustrating when things don't seem to change. What is the council doing to be proactive in improving this? I think you should employ disabled people who have the knowledge and understanding and who live with it day to day.

Ian, Yorkshire Coast and Ryedale Disability Forum

Will you please give your opinion regarding the feasibility of the unitary NYCC employing an access & inclusivity officer?  An officer promoting the intent of the Equality Act in all aspects of council services would be reassuring to the 120,000 + residents of North Yorkshire living with some form of disability. 

Response and Discussion

Richard said that there are large variations across the county requiring different approaches in different areas. This is in part due to North Yorkshire having a two-tier system of local government. There may be chance to look at opportunities for doing things differently as part of the local government reorganisation. 
Shanna said that forum members have achieved a lot but it can feel like the same conversations come up and achieving change can be challenging because there are so many stakeholders, including private businesses. She agreed with Richard that Local Government Reorganisation could provide opportunities, for example it may be possible to look at opportunities for employing people to carry out access audits.

Action

Richard to discuss with Shanna paid opportunities for people with lived experience.

 

Mental Health and Wellbeing

Ashley, HMHSU&CIG

Has there been a greater number of admissions due to Covid to Foss Park Hospital in York?
 Are the community psychiatric nurses still able to visit patients in their own homes during the pandemic?
 Are there more complaints of loneliness and a lack of connectedness due to the pandemic, and how has this affected people?

Response and Discussion

Richard noted that TEWV had informed him that there had been an increase in admissions, not just to Foss Park, but also Trustwide and Nationally. There have, however, been very few patients that have been Covid positive. Richard also noted that NYCC had had more requests for people to be assessed under the Mental Health Act since around June last year.
TEWV said that Community Psychiatric Nurses are able to visit people in their homes.
Richard said that he thought they had seen the best of community spirit over the last year but at the same time many people were isolated and not having social contact. He also noted that Community First Yorkshire had developed a North Yorkshire Loneliness Strategy and that it may be possible to invite them to speak at a future meeting.
Ruth M said that people with severe mental illness are more likely to develop physical disabilities and that having a physical disability also affects your mental health.

 

Working with NHS partners

Ripon Disability Forum

Please could Richard give us his thoughts on the future interface between NHS and social care?

Response and Discussion

Richard noted that this was a big topic and suggested that the forums might want to consider having a future session on the recent white paper about the NHS.

Action

Participation and Engagement Team to follow up with forums to see if there is interest in a session about the NHS white paper.

Andrew, Harrogate District Disability Forum and Ripon Disability Forum

How do you feel cooperation between NYCC Health and Adult Services and NHS is going? And how has it been affected during the pandemic? If it has been affected, what plans have you made to put back on track?

Response and Discussion

Richard said that NYCC had worked closely with the NHS throughout the pandemic and had had a shared purpose under Covid. There is also a funded pathway for discharges.
NYCC have done a lot of work on discharge and prevention and NHS colleagues have been very supportive. They have also worked together closely on vaccination, and the NHS has recognised NYCC's strengths in the community.
The important thing is to capitalize on this good work and improve coordination.

 

Local Government Reorganisation

Maggie, Ripon Disability Forum

Could we ask how any change to the existing NYCC might impact on the support our disability forums might receive?

Response and Discussion

Richard said that we do not know as we do not know the outcome of the consultation yet.
He highlighted that the value of coproduction is widely recognised.

 

Accessible exercise and recreation

Ruth, Harrogate District Disability Forum and HMHSU&CIG

I, like many other people, have been investigating walks nearer home, since the pandemic. There is very limited info, if any, on wheelchair access on established walkways such as the Nidd Greenway. Could this be improved?

Looking for accessible health, sport and fitness facilities - national search engines such as wheel power, continue to show 0 inclusive gym/ fitness facilities within the North Yorkshire area - if you take out the several which appear in York. When can we expect this to improve?

Response and Discussion

Richard said that he had raised questions about inclusive gyms and green gyms. North Yorkshire County Council have a project called Discoveries on Your Doorstep and Claire will follow up Ruth's query with the project officer. Open Country have some guides to accessible walks in North Yorkshire.
North Yorkshire Sport run exercise classes for people with chronic pain. Ruth said she had been told it was not possible to take part in pain scheme sessions due to being a wheelchair user.
Claire noted that Craven Disability Forum have invited North Yorkshire Sport to speak at their next meeting. If any forums would like to invite them to a meeting, they can contact Claire. North Yorkshire Sport also have some funding on 'Tackling Inequalities' and are keen to hear from groups who are supporting disabled people to be more active.

Actions

Claire to follow up enquiry about accessible walkways with Discoveries on Your Doorstep Project Officer.
Claire to share information about 'Tackling Inequalities' funding.