Craven Disability Forum
What we have been doing
We have had two local social prescribers along to our most recent forum meeting. They explained what social prescribing is and how people can access it.
We also had someone from the Census 2021 Engagement Team to talk to us about what support is available for people to complete the census, including how to complete it if you do not have internet access.
A representative from The Bentham Line Community Rail Partnership has started attending the Forum. We talked about a range of topics including accessibility at local stations, the Northern Accessibility Fund and the travel assistance service.
Things coming up
Earlier this year we had a very interesting discussion about disability sport. We have invited North Yorkshire Sport to come to our next meeting in June to talk to us more about access to sport and exercise.
We have postponed launching our survey until lockdown has lifted and people are able to access to libraries and other community venues. We will review the situation at our next meeting in June.
We have invited someone from Bradford and Craven CCG to attend a future forum meeting to give an update, following the merger of the CCGs last year.
Key issues for NYDF
We have found the meetings with Richard Webb very useful.
To find out more, please contact Helen Firth, Chair of Craven Disability Forum, via claire.canavan@northyorks.gov.uk 

Harrogate District Disability Forum
What we have been doing
We have been continuing our work developing our communications plan. We want to improve communication between our members, increase the visibility of the forum within the district and enable people to find out information about disability issues. We have come up with a range of ideas about how to do this, including Facebook, flyers, podcasts and webpages. We are looking to build on the video about the forum which we made for International Day of People with Disabilities https://youtu.be/hROTuEJjvbs
We have set up a monthly Chair and Co-Vice-Chairs meeting to discuss plans and keeping things moving forward.  
The Chair and Co-Vice-Chairs of HDDF have met with Ripon Disability Forum trustees to talk about how we can work alongside each other. We have agreed to meet on a quarterly basis, in advance of NYDF meetings.
At our February Forum meeting we had two guest speakers. North Yorkshire Police came to talk to us about Hate Crime, and we also had someone along from the census engagement team.
Things coming up
We will be identifying next steps for our Communication Plans.
We would like to forge closer working relationships with all the local disability forums in North Yorkshire. We want to get to know each other better and find out more about the work everyone is doing. We also want to build closer links with Harrogate Mental Health Service User and Carer Involvement Forum.
We are continuing to work on a number of issues related to accessible transport. We have invited to our next forum meeting someone from Harrogate Borough Council to talk about taxi licensing. This is so that we can discuss the availability of wheelchair accessible taxis in Harrogate. Once it is safe we will also be meeting with the manager of Harrogate Bus Station to discuss wheelchair accessibility at the station.
Key issues for NYDF
Our members have reported issues with the availability of wheelchair accessible taxis, particularly during the pandemic. We are concerned that disabled people have equal and fair rights to travelling by taxi. 
We have found the meetings with Richard Webb very useful and hope that these will continue. We want to ensure that disabled people's voices continue to be heard with regards to the delivery of the vaccine rollout, including ensuring that people's needs are taken in account with regards to the booking process and travel to vaccination centres.
To find out more, please contact Nick Moxon, Chair of Harrogate District Disability Forum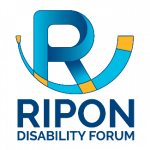 Ripon Disability Forum
What we have been doing
We have continued to hold both our monthly meetings and our Trustees Meetings on Zoom.
The Trustees have been working on the necessary policies and we are in the process of opening our own bank account.
We responded to Ripon Cathedral's request to comment on their proposal to improve the visitor experience, for people who have a disability. Whilst it is not possible to make the crypt under the cathedral accessible for all, they are hoping to use technology to create a virtual tour and will have information and a model at a station near to the entrance.
We continue to identify highways issues which we report to NYCC Highways and we maintain our established links with other organisations.
Things coming up
We have agreed our year plan for 2021/2.
Progress is at last being made on the Ripon Cycling and Access Strategy However although there is a lot of local support for the access part, we would like to see more engagement with people who have a disability, from the start by the L A rather than being consulted once the plans are designed etc.
Key issues for NYDF
The above incident has prompted us to ask NYDF what Disability Proofing takes place on all policy and services delivery across all departments within the Local Authorities. Particularly important is the actual involvement of people with a disability rather than consideration on behalf of people with a disability. Often it is too late to effect change by the time people with a disability are asked to comment.
To find out more, please contact Maggie Donnelly, Chair of Ripon Disability Forum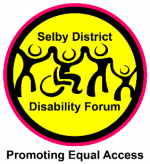 Selby District Disability Forum
What we have been doing
SDDF has been approached by two people regarding individual cases:
An issue potentially involving Employment Law, which obviously we cannot advise on. I have given them a couple of links (equality helpline and ACAS), thank you Shanna for providing me with them.
An issue regarding a person having to attend a compulsory training course, but no provision being offered to consider their dyslexia.
In discussion with Area 7 of NYCC highways regarding a new roundabout on a major route into Selby, which currently has no safe place to cross. – This is on hold due to lockdown and not being able to have site visits.
Our 'Virtual Friends', a group Zoom meeting every Wednesday morning, is moving from strength to strength with guest speakers and increasing numbers attending.
Some of the regular members are now taking a guest speaker role.
Things coming up
Selby District Council have been given £17.465 million for the Selby Station Gateway Transforming Cities Fund project, which will renovate the railway station and surrounding area.  SDDF are involved in this project.
Key issues for NYDF
On-going transport survey collecting data for a District-wide project
To find out more, please contact Phil Dodson  philipdodson@sky.com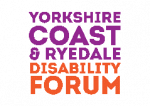 Yorkshire Coast and Ryedale Disability Forum
What we have been doing
We have been finalising our grant application, including finalising our budget and ensuring that we have the necessary policies in place.
We are moving forward with our plans to create a survey to find out more about disabled people's experiences in the area. The survey will help shape our work plan. We have asked our members what topics the survey should includ.
At our meeting in January we discussed the census and what support disabled people may need to complete it.
Things coming up
We will continue work developing our survey. We would like to thank Phil from SDDF and Helen from CDF for all their help so far, sharing their surveys and expertise.
We are working to develop our membership, including connection with groups and organisations in Ryedale. We hope the survey will help us to reach more people.
Key issues for NYDF
YCRDF continues to meet online and is adapting well to the online format. Although lockdown is due to lift gradually over the coming months we feel it will still be some time until the forum feels ready to meet in person.
To find out more, please contact Bridget Hardy: bridget.hardy@ycrdf.org.uk