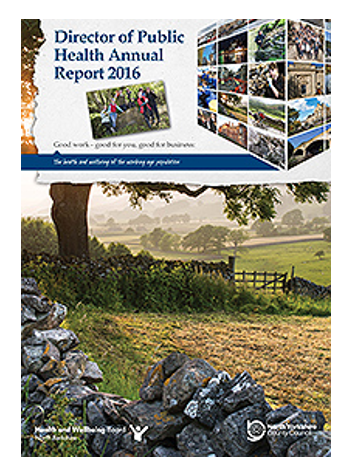 Responsibility for public health passed from the NHS to local authorities in 2013. Dr Lincoln Sargeant is the head of the team at North Yorkshire County Council tasked with implementing public health policy. This is his fourth detailed report on the issues the county faces.
In this report we aim to engage with employers, health and social care professionals, and individuals as potential employees so that we can 'work well' together and raise the awareness of the health benefits of good work. The report makes two key recommendations around creating healthy workplaces and building a healthy workforce and the focus for actions are highlighted throughout the report.
For the first time, we have presented this year's report in a calendar format with actions each month for you as an individual or an employer. We hope you find this a useful change to maintain the focus throughout the year.
This year's Director of Public Health report has been judged as the best in the country by the Association of the Directors of Public Health.  Each year, the Association runs a competition to celebrate the success of Directors of Public Health, their teams and their authorities in producing these reports. They select the best few publications and entries are judged by an independent panel who look for readability, accessibility and innovation as well as relevant and challenging content. As the reports are aimed at the general public, as well as partners and professionals, the key feature of the reports must be their accessibility to the wider public.
A number of key issues to highlight are:
The working age population in 2015 is 366,483 people (15-64 years) - four per cent lower than the UK average;
There will be a ten per cent reduction from 2016-39 in the working age population (around 36,648 people). This reduction will be greater in women (ten per cent down) than men (six per cent down);
By 2022 it is estimated 12.3 per cent of our workforce will reach retirement age (around 45,000 people);
About 80 per cent of work-related illness is musculoskeletal (e.g. back, neck and muscle pain), stress, depression and anxiety;
Fifty eight per cent of our working age population of 213,800 people are over 40 years of age;
Between now and 2035 there will be reductions of 25 per cent in the 50-54 years working age population and 21 per cent in the 45-49 years working age population;
People travel outside North Yorkshire for better jobs and better pay with 25 per cent of the working age population commuting outside the district in which they live;
Self-employment is significantly higher than other UK rural districts;
Annually there is a net outward migration of working age population, especially younger people, and a smaller in migration of older working age population;
North Yorkshire has 70 large employers (more than 250 people) and 27,955 microbusinesses (less than ten people) higher than other rural areas;
North Yorkshire has pockets of deprivation despite the perception it's one of the least deprived areas of the UK; and
North Yorkshire is the least connected county in the UK and has the lowest score of all UK authorities for household access to key services.
So whether you employ five people or 5,000 people, or whether you are employed, self-employed, unemployed or in unpaid employment, there are things we can all do to improve our future in North Yorkshire so that it's somewhere people want to live and work in 2050.
The report concludes with an update on the 2015 report recommendations and Dr Sargeant's recommendations for 2016-17 as director of public health.
---
Download the report
Director of public health report 2016 - Good work - good for you, good for business: the health and wellbeing of the working age population
You can also read these case studies from the director of public health annual report 2016
---
Director of public health annual reports

Director of Public Health annual report 2017
Director of Public Health annual report 2015
Director of Public Health annual report 2014
Director of Public Health annual report 2013