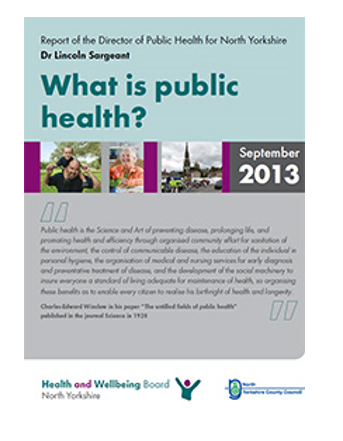 Responsibility for public health passed from the NHS to local authorities this spring. Dr Lincoln Sargeant is the head of the team at North Yorkshire County Council tasked with implementing public health policy. This is his first detailed report on the issues the county faces.
The aim of his first report as director of public health for North Yorkshire is to engage readers in re-examining what we mean by "public health". Public health is at once everyone's business and a specialist field of endeavour.
The report is not designed to capture all the health needs of the population (the joint strategic needs assessment is for that), but to highlight some of our key priority areas. It provides a snapshot of where we are now and celebrates the wide variety of actions currently being carried out to improve the health of the population in North Yorkshire. It also contains the recommendations Lincoln Sargeant, as director of public health, has made to guide efforts over the next year to improve the health of people in North Yorkshire and reduce health inequalities between communities.
---
Download the report
Director of public health report 2013
You can also download a large version of the case studies map that includes key facts about health needs in North Yorkshire.
---
The report illustrates everyone's role in public health through a series of case studies in the three key domains of public health:
Health improvement - supporting everyone to live happy and healthy lives;
Improving and maximising the effectiveness of health and social care services - making the most of the money we spend on health and social care; and
Health protection and communicable disease control - protecting the population from diseases and environmental hazards.
To view individual case studies see the case studies page.
---
Director of Public Health annual reports

Director of Public Health annual report 2018
Director of Public Health annual report 2017
Director of Public Health annual report 2016
Director of Public Health annual report 2015
Director of Public Health annual report 2014