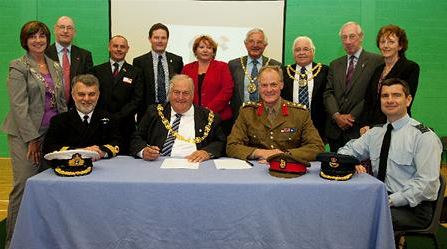 North Yorkshire was one of the first areas in the UK to agree an armed forces community covenant.
The county is proud of its military connections: the armed forces based in the county, the veterans who live in the county, and all their families. The first signatories signed the covenant at a ceremony at Catterick garrison on 30 June 2011. Other organisations have subsequently signed the covenant.
 
The aims of the covenant are to:
encourage local communities to support the armed forces community in their areas, and vice versa
promote understanding and awareness among the public of issues affecting the armed forces community
recognise and remember the sacrifices made by the armed forces community
encourage activities that help to integrate the armed forces community into local life.

The armed forces community includes all those who serve in the armed forces, whether regular or reserve, those who have served in the past, and their families.
 
The covenant is a voluntary statement of mutual support between a civilian community and its local armed forces community. It is intended to complement the national Armed Forces Covenant, which outlines the moral obligation between the Nation, the Government and the Armed Forces.
 
The Covenant Fund has £10 million each year to support the Armed Forces Covenant by funding projects which address specific priorities.
Governance:
The North Yorkshire Armed Forces Civil Integration Partnership Board is the strategic leaders' group and meets twice a year, chaired by the Commander Catterick Garrison.  Membership is drawn from local authorities, NHS, police, armed forces units and supporting organisations.
 
The North Yorkshire Armed Forces Community Covenant Network is a broad network of contacts from a wide range of public sector, armed forces and voluntary organisations, chaired by the Assistant Director (Policy, Partnerships and Communities), North Yorkshire County Council, supported by SO1 MCI, 4 Brigade. The Network operates mainly by email, but also meets about once a year.
For further information about the North Yorkshire Armed Forces Community Covenant contact:
Military Civil Integration, 4th Infantry Brigade and HQ North East. 4X-MCI-GpMailbox@mod.gov.uk
Neil Irving, Assistant Director (Policy, Partnerships and Communities), North Yorkshire County Council
01609 533489 neil.irving@northyorks.gov.uk