Wellbeing and Prevention consultation
North Yorkshire County Council's Health and Adult Services has recently consulted on proposals for best use of the available investment in community-based support to help adults in North Yorkshire stay well and independent in their local communities.
The consultation took place between 28 November 2017 and 15 January 2018.
 
You can find a copy of the consultation report which summarises the key findings from the consultation below:
Wellbeing and Prevention Services Review: Consultation report
 
The procurement exercise to award contracts for future support provision will commence in March 2018.
 
If you have any questions about the review please contact the team at commissioning@northyorks.gov.uk.
Background to the review
As part of its approach to ensure that we use our available resources as effectively as possible with support in place across the county to help people stay well and independent, North Yorkshire County Council (NYCC) Health and Adult Services is reviewing how some of the funding it provides towards community-based wellbeing and prevention support for people is used.
NYCC currently provides funding towards a number of community-based wellbeing and prevention services throughout North Yorkshire which help people stay well and independent. These services deliver the following main types of support: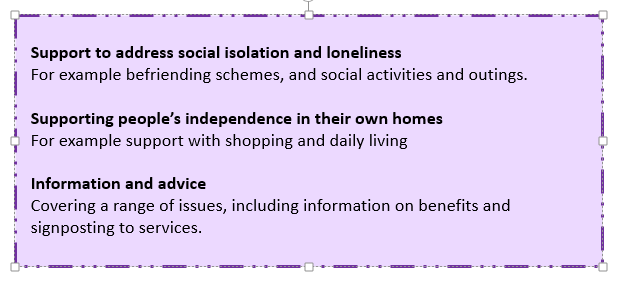 View or download a summary of the services and support currently funded by NYCC Health and Adult Services Wellbeing and Prevention contracts. - Current wellbeing and prevention contracts
These services deliver support mostly to older adults in North Yorkshire and are delivered by a number of different local voluntary and community sector organisations. They help support NYCC's approach to delivering its responsibilities under the Care Act 2014 to promote wellbeing and prevent, reduce and delay the need for statutory social care services.
They also support delivery of the following key outcome in the North Yorkshire Health and Wellbeing Strategy 2015-2020 - 'People can make choices to self-manage their care to help them stay independent for longer'.
Most of the contracts for these services have been held by the same small number of organisations for many years, with services developing over time. All contracts are currently due to end on 30 September 2018, and NYCC is required to re-procure service provision, as continuing to extend these is no longer possible under EU procurement regulaltions. Hence new arrangements for delivery of services will need to be in place for 1 October 2018.
Development of future commissioning proposals
The Council has used a wide range of information and intelligence in developing proposals for future investment into support.
This has included reviewing current services and support available, undertaking needs assessment and speaking with a wide range of voluntary and community sector organisations – including organisations that currently provide wellbeing and prevention services.
During September 2017 the Council shared outline proposals for future investment into support at a stakeholder engagement event and at a meeting of the North Yorkshire Forum for Older People.
Feedback received during these engagement events was used to develop further future commissioning proposals.
Further information of how commissioning proposals have been developed are included in the following documents: